CEO Bernd Sydow on strategy and focus, recent activities and plans for the current year.

FOCUS
Our focus remains on the initiation of pilot commissions in the fields of soil remediation and railway gravel decontamination. Several projects are already underway, while others are currently in preparation. We're putting particular focus on the collaboration with technology partners who are active in our areas of operation and want to collaborate with us to test the application possibilities of Arvox.
Priority is being given to soil remediation ex situ, especially in collaboration with operators of soil remediation facilities. A number of talks on this subject have taken place in recent weeks; laboratory tests have been done; and the first test treatments in the facilities have been arranged.
A significant simulation of trackbed and gravel decontamination will take place this summer. In addition, we see an attractive business segment in the in-situ cleaning of contaminated soil, such as the remediation of filling stations and fuel depots.
Geographically, we're approaching the European markets in German-speaking countries and in Italy. Outside of Europe, our focus is on North America, Israel and several countries of the former Soviet Union.

TREATMENT
Since the beginning of the year we've made significant progress in the development of our treatment in intensive laboratory tests with source-based contaminated soil and gravel samples as well as substratum subsequently contaminated in the lab. Remarkable results included the outstanding degradation of the herbicide glyphosate in railway ballast. We've published project data sheets that offer an overview of the trials.

MARKETS
The European environmental protection agency EEA has published a comprehensive dossier on their website that offers a detailed look at contaminated surfaces throughout Europe. According to this report, 45 percent of approximately 2.5 million contaminated properties had already been statistically registered and specified by 2011. Public expenditures for the assessment and rehabilitation of these areas had reached around ten euros per resident of the countries encompassed by the survey at the time. In Germany alone, for which the study has no country-specific data, this would mean a budget of over 800 million euros, which doesn't include private-sector investment in soil remediation.
Two survey results are particularly interesting for our business. For more than a third of the documented remediation activities, the costs per project were between fifty and five hundred thousand euros. For nearly a fifth of the areas, surveying and cleaning activities cost between five hundred thousand and five million euros.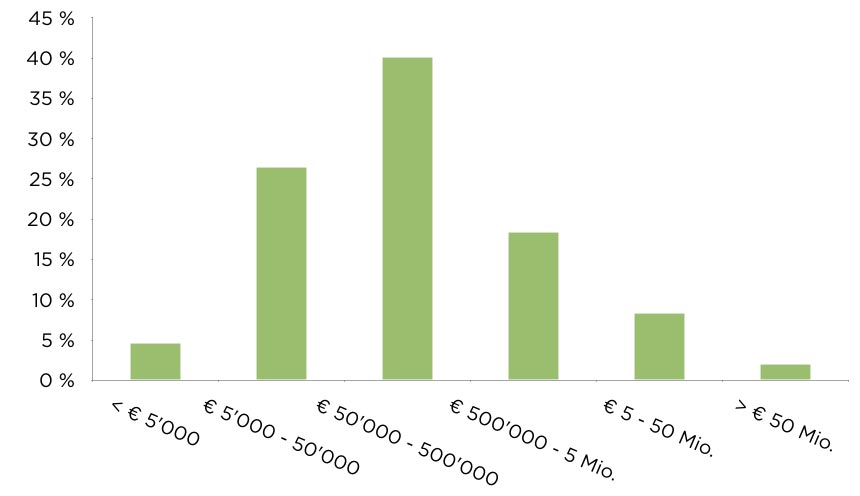 Furthermore, more than half of the contaminants are hydrocarbons that can be degraded with Arvox.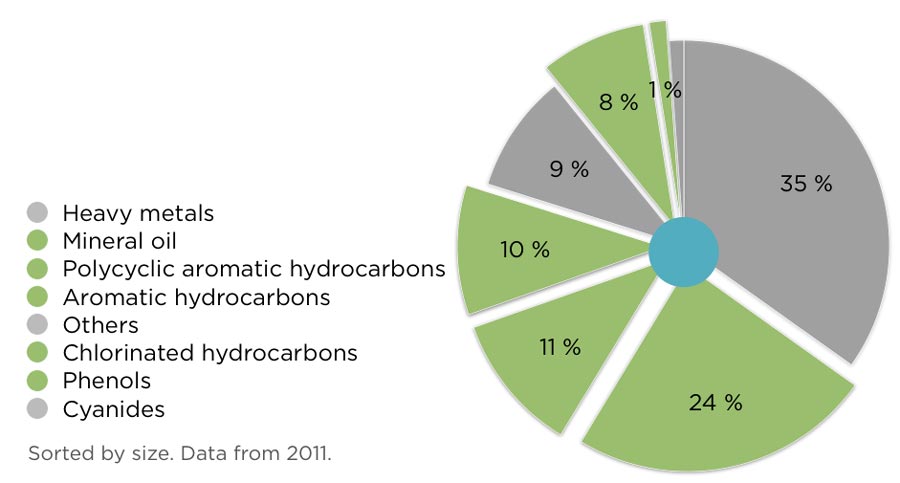 PROJECTS
The national railway companies in Austria, Germany and Switzerland (ÖBB, DB and SBB) have decided to undertake a large-scale test with us. ÖBB will oversee the professional replication of two track beds within two nine-meter-long experimental basins. Using a complex experimental setup with comprehensive chemical analysis, we'll clean original railway gravel, a simulated oil spill and gravel contaminated with glyphosate. The results will form the basis for guidelines on our treatment's application to public railway tracks.
In the coming months we have agreed to carry out volume tests with several of Germany's largest operators of soil remediation facilities. We'll be rehabilitating between three and ten tons each of pre-cleaned soil with specific residual contamination. The trials will offer us further insight into the treatment's efficiency, required volume and costs.
We're also preparing contracts with our first license partners. We've signed letters of intent with several companies in Europe and North America and are currently discussing pilot projects.

VALUES AND VISION
April saw us join forces with a strategy consultant to develop our values and shared vision. We now possess clear guidelines for our internal collaboration as a team as well as our client relationships and our corporate image.
Central questions in this process included: What values determine our work? Why are we working for Arva? How are we doing this? And what are we doing? The values developed by the team have been formulated in this first version of our self-image:
"We aim to use green technology to develop Arva into an internationally active company. We are convinced that it is possible to solve environmental problems in an efficient and sound manner by using innovative yet simple approaches, thereby making a significant contribution to a cleaner, greener environment. We believe that green technologies are the technologies of the future and stand for economic growth."
Our claim to "make the world a greener place" finds itself altogether confirmed.
The question of "what"––that is, what we are offering, what we are capable of––can be answered at this time by the following:
"Arva is the only company able to offer an oxidation treatment that degrades a broad spectrum of contaminants in an environmentally friendly way. This includes hydrocarbons found worldwide in railway properties, contaminated soils and mineral waste."
What are we doing right now? How will we approach the future? How are we dealing with each other within the company? Our answers are a very good description of our current strategy for a successful market entrance.
"We are currently working on pilot projects with experts from interested partner companies. The results will deliver the knowledge required for the development of innovative and individualised solutions. In the future we will collaborate with established license partners and offer the solutions worldwide."
With regard to teamwork, we have chosen the values of passion, self-criticism, openness and trust as lodestars. Written out, it reads as follows:
"Arva needs colleagues whose work exudes passion and enthusiasm. We are open to new things. We question what is established. Constructive criticism is always welcome. Motivation results from working independently and from the trust we have in team members and their expertise."

NEW SUBSIDIARY – NEW NAME
At the beginning of May 2017,we founded the German subsidiary Arva Greentech GmbH, a name chosen with great consideration. The acronym of our hitherto corporate form has, in conversations, begged the question of what it stands for. Our strategic reorientation has made the reference to oil in Man Oil Group more difficult to explain and reliant on a reference to the company's history.
Arva is Latin for soil, land or field and hence suits our corporate objective very well. Moreover, the term is easy to pronounce in our target markets and has not yet been taken as a company name in our field, which is of equal importance.
Renaming the holding company will be discussed and agreed upon at the upcoming shareholders' meeting.

INVESTORS – SHAREHOLDERS
Since our treatment's effectiveness has been impressively documented in numerous tests and independent analyses, we've been preparing an increase in capital in tandem with our market entrance.
The next phase of development will initiate the aforementioned volume tests, which will be accompanied by investments in equipment and scaling of technical implementation.
We're currently in talks with Arva's shareholders and partners about who can and would like participate to what extent in the new shares. The shareholders' meeting is planned for the second half of the year.