Fast and sustainable
Our solutions integrate highly effective products into the high-tech processes of mechanical cleaning and chemical remediation of contaminated sludges, soils and surfaces.
Arvox consists of two environmentally friendly water-based components. Their reaction generates oxygen radicals that break down organic pollutants quickly and efficiently in and on the contaminated material.
Arvox is currently used in three areas, in specially developed formulations:
Soil Cleaning
Superoxidation in situ and ex situ
Degrading Hydrocarbons
with Arvox Soil
Worldwide, countless soils are contaminated by oil, herbicides, fats, diesel and many other organic pollutants. Arva has developed Arvox Soil for cleaning these contaminated substrates.
The Arvox Soil superoxidation process is ideal for on-site cleaning of excavated soils and any type of mineral waste contaminated with hydrocarbons.
Application
This superoxidation can be used in soil washing plants or on site in mobile cleaning plants. The latter enables operation in very limited space.
Arvox Soil can also be used as a pre-treatment stage for a biological cleaning process.
Arva Greentech cooperates with experienced environmental service providers in the field of soil remediation and together offer to realize projects in land recycling and environmental remediation.
Further information is available in the download area.
Deep Injection
In 2019, Arva founded a joint venture with Sensatec GmbH, a market leader for complex remediation of contaminated sites: The Emplace Tech GmbH. Emplace offers an innovative technology called 'Targeted Solids Emplacement (TSE)', which pumps solids into the subsoil under high pressure in order to eliminate underground contaminations. As the necessary high-performance pumps were previously not available in Europe, Emplace had the first TSE system built according to its own plans by a special machine manufacturer for use in Europe.
"The innovative procedure heralds a paradigm change in the remediation of contaminated soil. We have achieved astoundingly good results, it is fast and enables the regeneration of the remediated soils. Overall it is an elegant and cost-effective solution."
Hans Betko, Geologist, TÜV SÜD Industry Service
Surface Cleaning
Removes organic soiling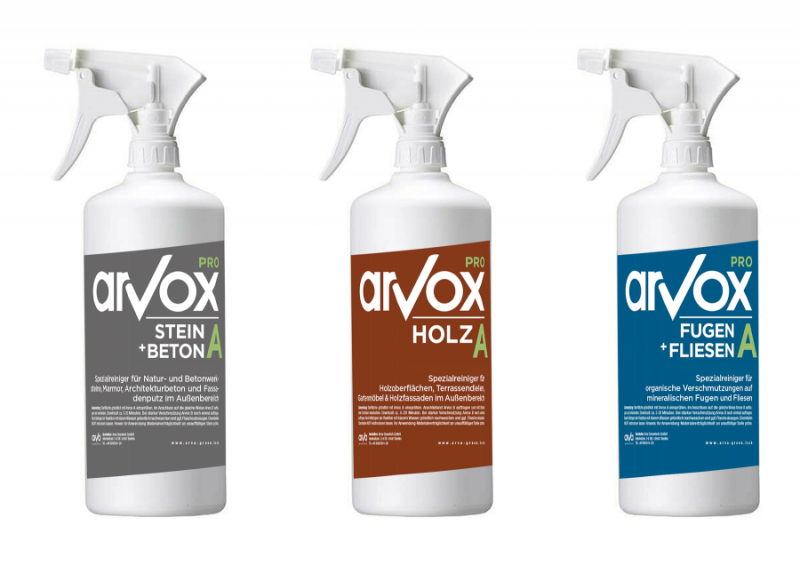 Deep cleaning with Arvox Pro
Arvox Pro is a highly effective cleaner that decomposes organic soiling by means of oxygen radicals. This so-called superoxidation is much stronger and has a more lasting effect than conventional cleaning agents.
The two-component solution can be used on natural stone, mineral joints and tiles, concrete, floors and structural elements made of wood as well as facade plaster and mineral sealants. Arvox Pro prevents the cleaned surfaces from renewed soiling.
Arvox Pro eco-friendly and is gentle on the surfaces. The Arvox product family consists of three special cleaners for commercial use. The formulations are specially composed to match the materials to be cleaned.
Fast
The products of the Arvox Pro series impress with their fast and highly effective cleaning effect. The two components are sprayed one after the other onto the surface to be cleaned, worked in and rinsed off with water after a short reaction time.
Powerful and gentle on materials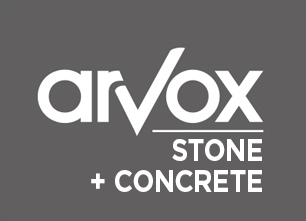 Natural stone and concrete become dirty due to weathering and use. Often vegetable residues, oils and grease are deposited.
High-pressure cleaners are commonly used for cleaning. These roughen the surfaces and make the stone susceptible to soiling. The surface becomes unsightly. After only a short time, a new cleaning is necessary.
Arvox Pro Stone + Concrete can be used both indoors and outdoors on natural and artificial stone, paving slabs, marble, design concrete and facade plaster. The product is suitable for horizontal and vertical surfaces. For heavy soiling, the use of a scrubbing machine is recommended.
Cleaning design concrete in the Neues Museum in Berlin
Sandstone in the Domhof Hotel in Speyer
Soft restoration
Wood is a natural product. Outside it will weather with time. Sun, rain and snow are affecting garden furniture, terrace boards and wooden facades: The wood turns grey, gets dirty and the surfaces become rough.
High-pressure cleaners are often used for cleaning.This causes the wood to fray and become even rougher. It becomes more susceptible to new soiling and green coverings.
Most cleaning agents only remove superficial soiling. Dirt residues and organic adhesions remain in the pores and structure of the material.
Arvox uses the powerful effect of natural superoxidation for gentle cleaning.Regular use leads to well-tended and smooth wood surfaces, prevents new soiling and extends the life of the wood. Arvox is also particularly suitable for basic cleaning before applying wood oils or glazes.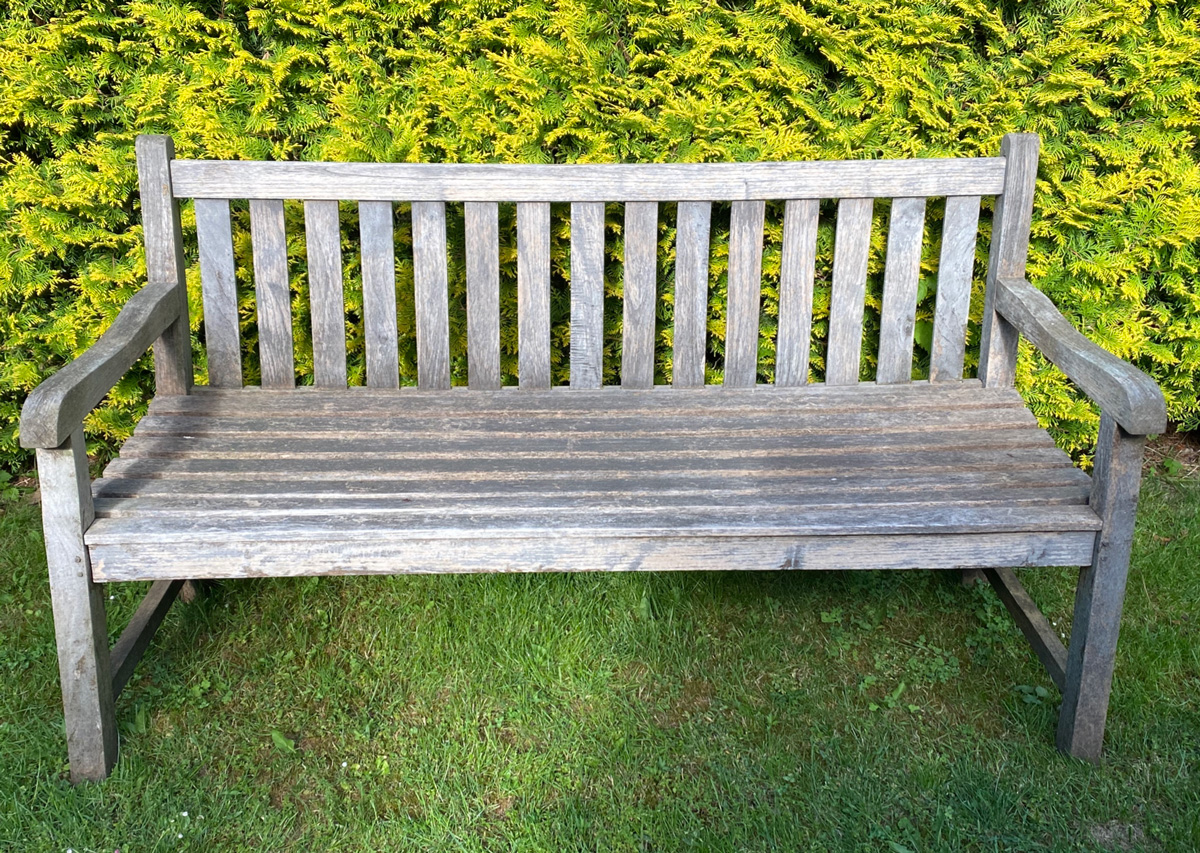 Wooden floorboards on a balcony
Like freshly grouted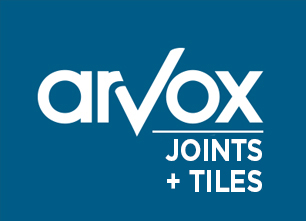 Tiled rooms such as bathrooms, showers and kitchens place increased demands on basic and maintenance cleaning due to their use and the associated moisture. A wide range of cleaners is available for cleaning the tiles. Thorough cleaning of the joints is almost impossible with conventional cleaners.
As a result, despite regular cleaning, the tiled surfaces do not look clean because they are not. Older, dirty joints can often only be "cleaned" by a complete renovation, i.e. removal and re-grouting.
This results in considerable costs, often combined with loss of turnover due to unusable rooms as well as noise and dust pollution. The regular use of Arvox leads to permanently clean joints, a better appearance of the tiles and thus to longer utilisation cycles of the rooms. Arvox Pro makes it possible for the first time to repair and maintain bathrooms and tiled areas in a sustainable, gentle and hygienic manner.
Application in the shower bath
Track Bed Cleaning
Railway Track Gravel Cleaning and Remediation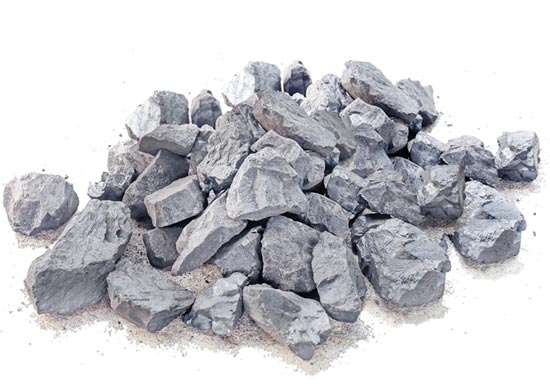 In situ ballast treatment
with Arvox Gravel
Arvox Gravel has been developed for the fast and complete in-situ decontamination of rail tracks. The contaminants that can be treated are grease, oil and diesel spots as well as all kinds of herbicide leftovers. The complex and costly process of excavation, transport, cleaning or replacement and disposal of the ballast is no longer necessary.
Application
The liquid Arvox Gravel components are applied directly to the track bed and ballast one after the other with spraying systems. In case of punctual contamination the reagents are applied manually. On longer track sections, track-mounted spraying vehicles are used.
Arva cooperates with certified service providers for these cleaning services.