Arvox is now used for special cleaning in the Neues Museum in Berlin
Upon the successful testing, the National Museums in Berlin have now performed a large-scale cleaning with Arvox. The special cleaning and monument preservation experts from Berlin-based Kleine Reinigungs- und Dienstleistungsgesellschaft mbH have cleaned the large stairwell in the Neues Museum. The renowned Rathgen Research Laboratory had previously approved the use of Arvox in the museum after thorough testing. No other product or procedure has been able to remove soilings from the marble concrete, custom-developed for Chipperfield and Julian Harrap's rebuilding project .
Both the cleaning professionals and the museum management were fully satisfied with the results. The large staircase and the side stairs to the third floor were treated with Arvox. "The dirt was removed very easily," said the manager of the special cleaning team after the application. Arvox is highly effective, which makes the product an enormously economical cleaner. The cleaning is to be repeated annually during the museum's closing days. Arvox is now to be used for the James Simon Gallery, the visitors' centre and next to the Neues Museum, built mainly from the same concrete.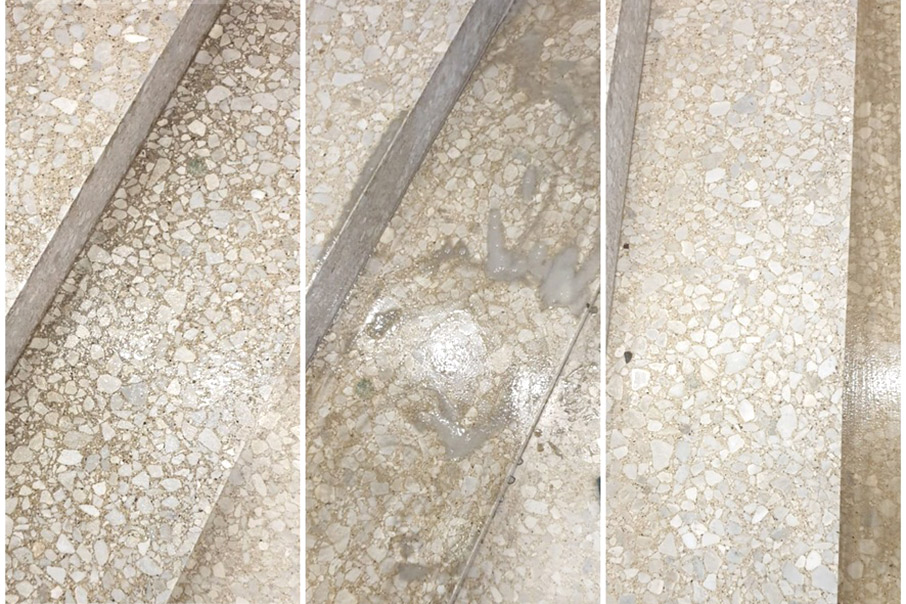 Use of Arvox on the stairs. Left: after application of the Arvox components; middle: reaction and removal of dirt; right: still damp, clean step.