Successful DDT degradation with Arvox and bioremediation.
The problems of successful and environmentally sound disposal of hazardous and stable organic pollutants, which traditionally belong to the group of persistent organic pollutants (POPs) described in the Stockholm Convention, are still largely unsolved worldwide. The group of POPs listed in the Stockholm Convention was originally more narrowly defined. The "dirty dozen" established in the first version of the Convention can be conditionally divided into two groups of substances: Pesticides and polychlorinated hydrocarbons.
List of POPs to be extended
After the fourth meeting of the parties to the Convention, nine additional substances were added to the list of pollutants. It is currently obvious that a further extension of the POP list is a matter of time. It is therefore important to understand which properties are most critical to date in determining a particular substance as hazardous to the environment from the perspective of the international community, local regulators and the environmental industry.
The new approach to POPs' remediation
There are two common approaches to the remediation of POPs: chemical and biological. We believe that the most interesting and challenging for the industry today is the art of combining different methods and remediation approaches. Effective remediation measures today are guided by sustainability principles. A deep understanding of chemical oxidation – the most widely used method of detoxifying contaminated soils – allows us to combine it with the appropriate biological methods to rebuild a sustainable and self-sustaining ecosystem.
Polluted soil can be restored
By applying such an integrated method, combining chemical and biological remediation techniques, we have achieved a massive reduction of DDT content in soil in a short time and in a cost-effective way by using our oxidative Arvox technology and further treatment with microorganisms. The DDT degradation through both remediation steps is shown in the figure below.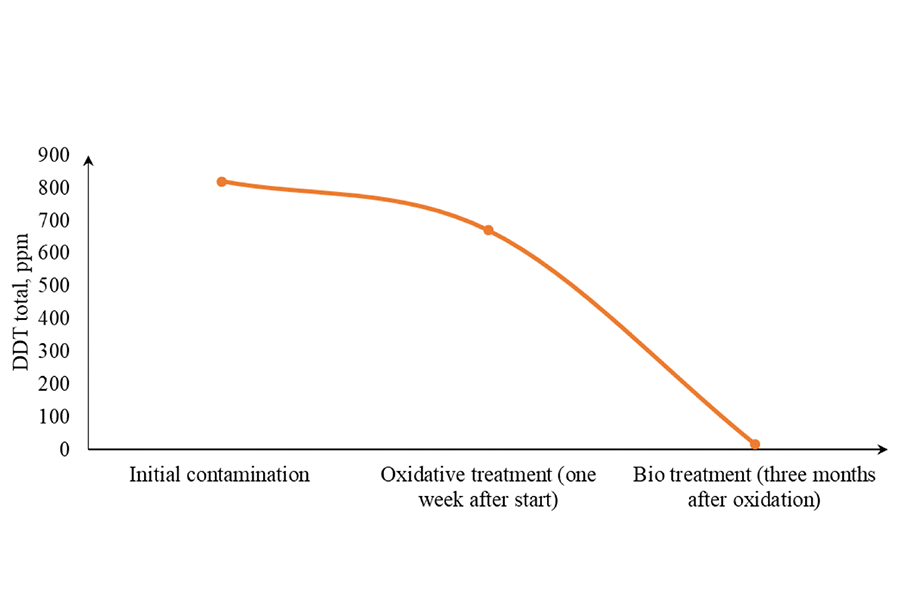 Degradation of DDT after treatment with Arvox and microorganisms
The application of combined chemical-biological methods in soil remediation is becoming more and more widespread worldwide and undoubtedly has a promising future in the entire environmental technology industry. This is particularly true for contamination with POPs, which poses major difficulties and challenges for the world.
Soil remediation as part of a global vision
The task of reducing the global extent of POP-contaminated areas clearly corresponds to the Sustainable Development Goals of the United Nations such as "zero hunger" or "no poverty", which require healthy soils for agriculture and an intact ecosystem. The responsible countries and owners of these areas, together with the environmental industry, have a lot of work to do. Most of this work will not be able to be done on well-developed, manageable plots of land with modern infrastructure and advanced technologies. Rather, we will be dealing with large and inaccessible areas where sustainable action against POPs can only be a well-planned combined application of basic and accessible technologies.
The art of such a combination and balance between conventional chemical and biological technologies to achieve truly sustainable results is, in our view, the skill that will be in great demand in the coming period.