Pilot tests for the decontamination of oily wastes successfully completed.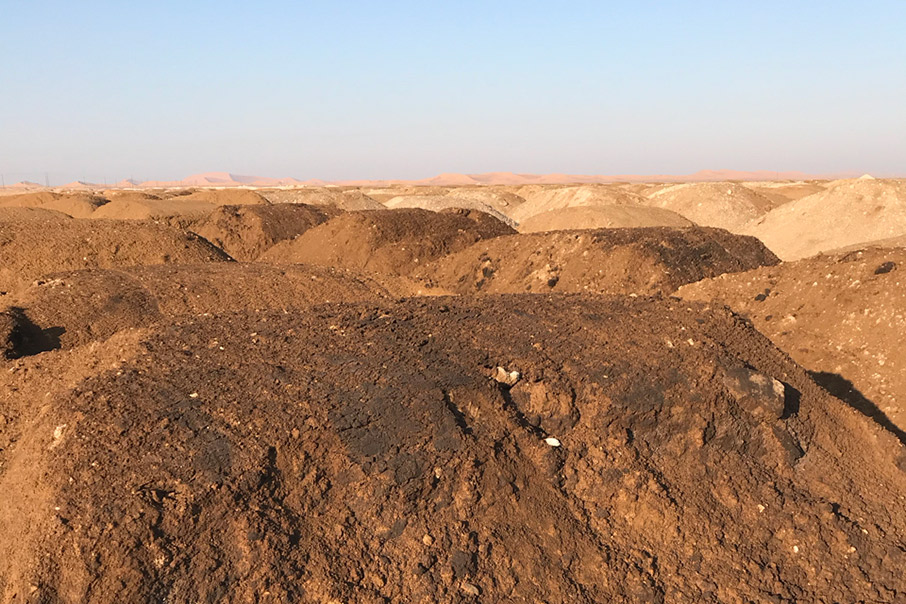 With its Arvox treatment technology, Arva offers a unique and patented process for the rapid and environmentally friendly decomposition of various organic pollutants including petroleum hydrocarbon compounds. The Arvox technology neutralises or extracts the organic pollutants by oxidation. The underlying chemical reaction generates oxygen radicals that break down the contaminants in an environmentally neutral way. Arvox can be applied in various ways and may also be integrated into existing treatment technologies as a pre- or post-treatment stage.
Initially, the Arva management together with our Omani partner company Merit International L.L.C. presented the Arvox technology to the responsible department heads in the Omani Ministry of Environment and Climate Affairs (MECA). Arvox was subsequently approved by the state oil company Petroleum Development Oman (PDO) and Arva was commissioned by PDO to carry out a pilot project.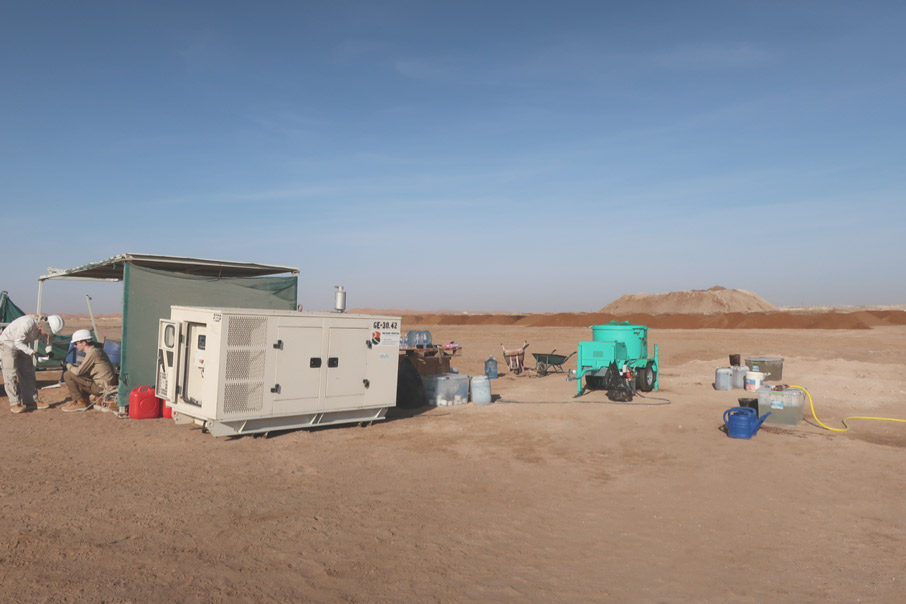 Construction for soil treatment at the PDO site in Lekhwair with mixer, generator and water supply with stored contaminated soil in the background.
At the PDO production sites, petroleum contaminated soil (PCS for "contaminated soils") and oil based mud (OBM) accumulate as a result of accidental oil spills and continuous drilling activities at the respective landfills. The storage areas are filling up and the remediation methods used today are either costly or time-consuming. In the trial a concrete mixer was used to treat three different sands and one OBM sample with Arvox technology in two different modes: destruction and extraction. In the former, oxidation breaks down the hydrocarbon chains in the substrate into water, oxygen and sodium carbonate. In extraction mode, the phases of the substrate separate into solids, sand and oil, which can then be skimmed off.
Treated substrates ready for analytic sampling
Results (selection)
Reference samples and Arvox-treated samples of all substrates were sent by PDO to the ALS Arabia Biyag Laboratory to quantify the TPH levels. The table below shows the best treatment results for each of the four substrates. Between 62 and 91 percent of the TPH were removed from the substrates in a single treatment cycle.

Petroleum hydrocarbon (TPH) content before and after Arvox treatment and resulting degradation rates
The on-site mixing tests carried out on site in Lekhwair proved the high performance of the Arvox technology for cleaning sandy soils and drill cuttings. It was possible to reduce the oil content significantly and efficiently. Both treatment methods, extraction and degradation, were successfully scaled up to industrial application.
Arvox superoxidation thus offers a fast and effective approach to implement environmental and remediation regulations in the oil industry environment. Arvox can be used in various scenarios and industrial scales depending on the location and volume of the substrate to be treated: In mobile treatment units to tackle local contamination or in semi-mobile treatment plants for continuous operation. Arva's engineers are currently preparing the large-scale application at a site in Oman.