Current status of the market launch in neighbouring European countries
Since the beginning of this year, we have been talking to potential key accounts and distribution partners in Switzerland, the Netherlands and Poland.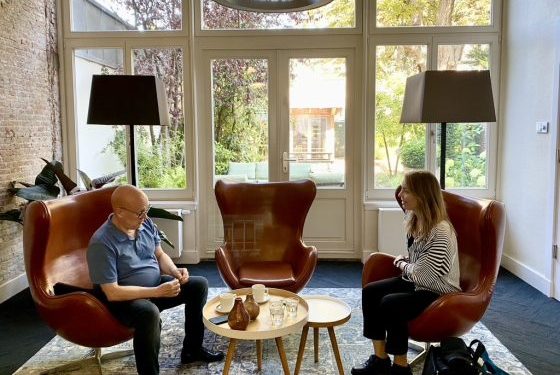 Philipp Pommerenke, Business Development Manager at  Arva Greentech (left) and Joy Krijgsman, sales consultant at the Dutch-German Chamber of Commerce (DNHK) in The Hague, NL.
Firstly, we would like to welcome our Swiss neighbors to our international partner network. Scheitlin Papier AG, one of the leading wholesalers for the Swiss cleaning industry, now offers its customers the complete Arvox product range. The company, which specializes in cleaning and hygiene products, has been around for over 30 years. They now have 35 employees and their service covers the whole of Switzerland with their product range.
Another distribution partner in the Alps is the Fassadenreinigung Casutt, in Thun, which maintains excellent contacts with Swiss caretaker associations and facade cleaners.
From now on, Distona AG is our partner for distribution and storage in Switzerland. The chemical and logistic company are internationally active and supply Swiss producers with basic and special chemicals. They guarantee delivery within 48 hours within the country.
The Arva Marketing Team is currently working with the new partners to develop advertising and sales materials for marketing in Switzerland.
In the Netherlands, we are working closely with the German-Dutch Chamber of Commerce (DNHK).They have arranged appointments with various wholesalers and cleaning companies, whom we met on site and showed them how Arvox works. Further meetings are scheduled for September. The next step will be the selection of future business partners, the training of the sales team and the first delivery of Arva products.
In Poland, we have also commissioned the German-Polish Chamber of Industry and Commerce with research on the Polish cleaning market and a competitive analysis (production, turnover, foreign trade, etc.). After evaluating the results of the research, they will work together to find potential sales partners, arrange appointments and develop a suitable sales strategy with us.
We look forward to working together and are excited about what the coming business years will bring. The expansion of our business partner base is a big step that we are eagerly looking forward to. Our entire team is optimistic about the future and happy to have taken a decisive step forward.